A large Nicoya figural vessel from Nicaragua, ca. 1000 – 1500 AD. It is 7" high. 7-1/4" wide and depicts an individual with one hand held to the side of his head, with the other resting on the outstretched leg. The face is nicely detailed, painted designs are used to indicate clothing and jewelry and there are rattles in the hollow legs. Overall in good condition, with vivid paint, strong mineral deposits, minor slip loss and a small repair.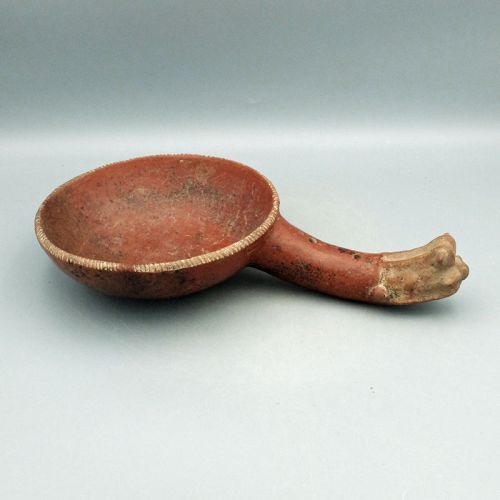 click for details
An excellent Nicoya censer from Costa Rica, ca. 1000 – 1500 AD. It is 12" long and the dish with serrated rim is 7" in diameter. The handle is hollow, contains rattles and terminates in a serpent head. In exceptional condition, with strong mineral deposits and root marks.
Cf. Sackler Collection "Art of Costa Rica", page 246.