A wonderful Colima village scene from West Mexico, ca. 300 BC – 300 AD. It is mounted on a 5-1/2" diameter platform and consists of 2 houses and six figures. The dominant figure is a pregnant female leaning against one of the structures, her status is communicated via her relative size. There is also a figure on a funerary pallet and a hunched-over individual looking sideways. Two of the figures are located inside the houses, which are decorated with linear designs. Rare find in excelle...
A lovely Colima figure from West Mexico, ca. 300 BC – 300 AD. This choice two-tone female is 12-3/4" high and is posed seated, with one hand held to the side of her face in a thoughtful gesture. She is attired with a long skirt and her elongated ears are pierced. In exceptional condition, with highly burnished slip and good mineral deposits.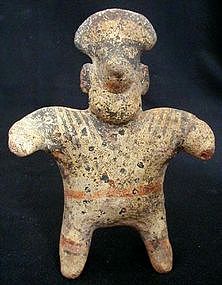 click for details
This figure was stolen on December 11, from the Bella Gallery in Great Barrington, Mass., where it was part of a collection being exhibited.
A gorgeous Nayarit polychrome male, 6" tall. This Ixtlan del Rio variant, ca. 200 BC - 350 AD stands on bifurcated feet and is lavishly painted overall. An excellent example. Intact.