An exceptional Chimu wood staff from Peru, ca. 1100 – 1450 AD. This rare example is 22-1/2" long and features a nicely detailed head topped with a large flared element. The carving is surrounded by multiple bands of delicate pyro-incised designs. In superb condition, fine patina, mounted on stand.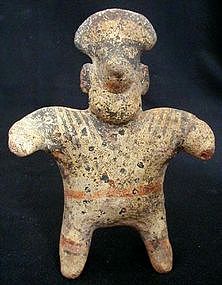 click for details
This figure was stolen on December 11, from the Bella Gallery in Great Barrington, Mass., where it was part of a collection being exhibited.
A gorgeous Nayarit polychrome male, 6" tall. This Ixtlan del Rio variant, ca. 200 BC - 350 AD stands on bifurcated feet and is lavishly painted overall. An excellent example. Intact.