A pair of fine Bactrian mantle pins or cosmetics applicators, ca. 600 - 200 BC. These nice bronze implements are 4" and 4-1/2" long and are topped with nicely detailed finials. Strong mineral encrustation.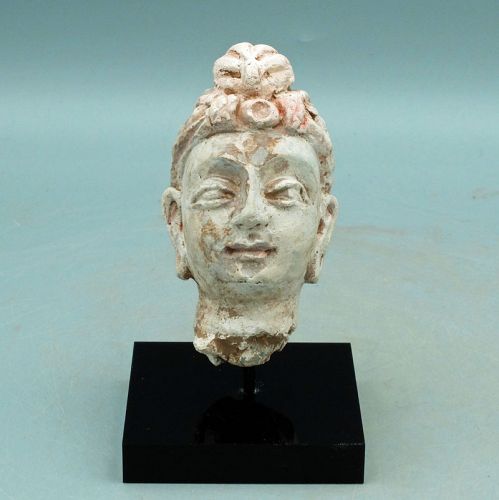 click for details
An exceptional Gandharan stucco head from the Indus Valley, ca. 4th - 5th Century AD. This choice example is 3-1/2" high and portrays a Bodhisattva with elongated ears and pierced lobes, wearing an ornate, gem-studded headdress. In excellent condition, with good mineral deposits and retaining traces of red pigment typical of the Hadda types. Mounted on stand.
Cf. Pal "Indian Sculpture", page 221.
A nice Gandharan stone oil lamp from the Indus Valley, ca. 3rd – 4th Century AD. This nicely detailed example is 3-1/2" long, 2-5/8" wide and is carved from the gray schist characteristic of the area. It is decorated with incised linear designs along the rim and has small flanges extending from the chamber. Heavy mineral deposits.